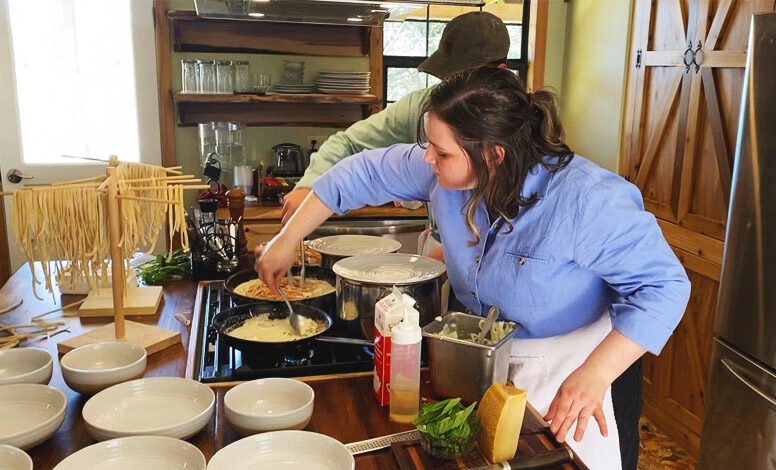 At the River Rose, our authentic Texas experience goes beyond just outdoor adventures. We offer three unique onsite dining options to delight your team and immerse them in the local culture.
The Chef's Kitchen is the perfect choice for teams who want to indulge in delicious local cuisine without worrying about the cooking. Our local chef will curate a selection of their most popular recipes, each with a special backstory. Your team can sit back and savor the flavors of Texas while bonding over a delicious meal.
For teams who crave the great outdoors and a taste of the Old West, our Chuck Wagon experience is sure to please. Our outdoor grill setup will transport you to a bygone era of cowboys and cattle drives. Your team can enjoy grilled meats and vegetables while enjoying the beautiful Texas scenery.
For a truly immersive experience, our Guided Chef option is the way to go. Your team will work with a local chef to select the freshest ingredients and learn the secrets of Texas cooking. From preparing the ingredients to cooking the meal, your team will be hands-on every step of the way. This option is perfect for groups who want to bond over a shared cooking experience and create lasting memories.
No matter which dining option you choose, you can expect a true Texas experience at River Rose.
Offsite Dining Options
When it comes to dining in Texas, the options are as diverse and unique as the Lone Star State itself. We offer a variety of offsite dining adventures that will take your team on a culinary journey through the heart of Texas.
One of our favorite offsite dining options is Blackie's Baitshop in Walnut Springs. This charming establishment is a favorite among locals for its delicious Texas-style steaks. With a cozy atmosphere and friendly service, Blackie's is the perfect spot to unwind after a day of outdoor adventures. Learn more about Blackie's Baitshop on their website: https://blackiesbaitshop.com/
Loco Coyote is the place to go if you're looking for a truly eclectic dining experience. This off-the-beaten-path venue offers a unique mix of Texas favorites like ribs, steaks, catfish, and various other dishes sure to please even the pickiest eaters. With its funky decor and laid-back atmosphere, Loco Coyote is a great spot for teams looking for a one-of-a-kind dining experience. Check out Loco Coyote's website for more information: https://www.lococoyoterestaurant.com/
For a unique nightlife experience, Blackies After Dark (BAD) is the place to be. This weekend gem is designed after a piano jazz bar and offers a range of drinks and small plates to satisfy your cravings. With live music and a fun atmosphere, BAD is the perfect spot for teams looking to unwind and let loose. Learn more about Blackies After Dark on their website:
Last but not least, Sledge Distillery offers a taste of Texas history with its moonshine-inspired spirits. This distillery takes you back to the early days of Glen Rose during prohibition when Glen Rose was the moonshine capital of Texas. With a range of handcrafted spirits and a cozy tasting room, Sledge Distillery is a great spot for teams looking for a unique drinking experience. Visit their website for more information: https://www.sledgedistillery.com/
Are you looking for some after-hours fun in downtown Glen Rose? Look no further than Sexton Feed Mill, a Texas bar along the picturesque Paluxy River. With its laid-back atmosphere and friendly staff, Sexton Feed Mill is the perfect spot to kick back and enjoy a cold drink after a day of outdoor adventures. Sexton Mill has got you covered whether you're in the mood for a classic Texas beer or something more adventurous. Their extensive drink menu features a range of beers, cocktails, and spirits, so there's something for everyone. And with live music and events throughout the year, there's always something happening at Sexton Mill. Visit their website for more information: https://www.sextonmill.com/
No matter which offsite dining adventure you choose, we guarantee a truly authentic Texas experience that will inspire and satisfy your team.
All Amenities
Get the latest News from River Rose