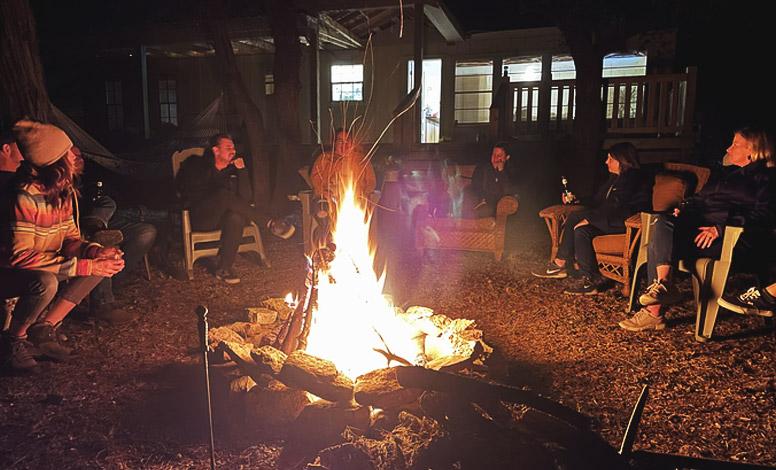 Relax by a Fire
After a full day of team activities, it's time to kick back and relax Texas-style! There's no better way to unwind than sitting around a campfire with your colleagues. We've got you covered with everything you need for a cozy night under the stars – firewood, chairs, roasting sticks, and blankets to keep you warm on those cool Texas nights.
As the flames dance and the warm glow of the fire fills the air, take a moment to take in the amazing views of the starry night sky above. It's the perfect ending to a great day of work together, surrounded by the beauty and hospitality of Texas. So grab a s'more and pull up a chair – let's enjoy the good times and memories that come with a night around the campfire.
We offer the following add-ons to enhance your campfire experience: 
S'more kits with everything you need to make the tastiest treats around, including graham crackers, marshmallows, and of course, chocolate. Don't worry about a thing – we've got you covered with our s'mores kits.

And what goes better with s'mores than hot chocolate? Our hot chocolate bar has all the fixings, including whipped cream, sprinkles, and marshmallows, so you can customize your drink just the way you like it.
If you're feeling adventurous, why not sample authentic Texas moonshine from Sledge Distillery? This local distillery has been making moonshine for over seventy years, and their recipes are a true taste of Texas.
Finally, don't miss out on our guided stargazing experience. We'll provide a journey through the night sky, pointing out constellations and sharing interesting facts about the area that date back to the time when dinosaurs inhabited our property. It's the perfect way to end a great day of team activities and make memories that will last a lifetime.
All Amenities
Get the latest News from River Rose